Educational Technology is For Everyone
You don't have to be a tech nerd or computer programmer to make technology work in your classroom. Our goal is to help make it a little easier for all educators to learn and incorporate more technology in the classroom, without having to figure it out by themselves.
The World of Education is Complex
While we started out as a podcast dedicated to educational technology, we have learned so much more. Throughout this journey, the landscape of education has changed so much. In our podcast, we share both the challenges and the successes we have encountered along the way.
Who Are The EduGals?
Rachel is a true nerd when it comes to all things education, technology, and science! She loves finding ways to integrate technology with a pedagogy-first mindset. Rachel has been teaching high school science and math for the past 10 years.
Katie first drank the Google Kool-Aid in 2013-2014 and she hasn't looked back since! She loves learning new technology that can help both staff and students succeed. Katie has been teaching Spanish and ESL for 8 years now, and enjoys using technology to help support language acquisition.
Together, they have been working with staff and students to help with all things technology. They both love to learn about new apps and tools that can help support educators. Their excitement (read: nerdy enthusiasm) is contagious.
Get the Inside Scoop!
Want to stay up to date on all the latest news, tips and more? Subscribe today!
Our Recent Posts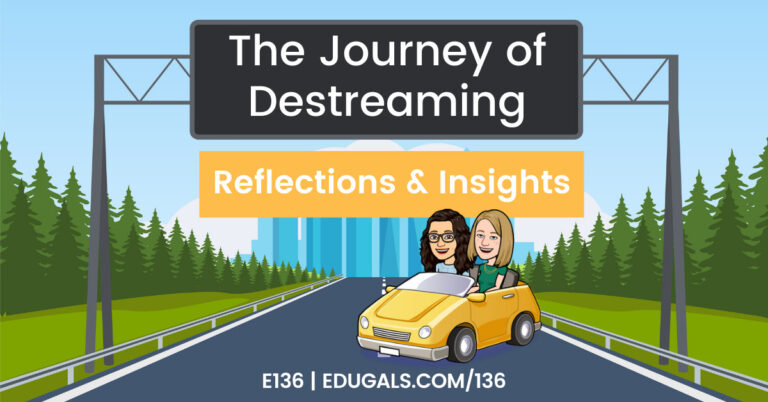 In this episode, we are revisiting destreaming and giving you a bit of an update on where we are now. We will share the ups…